Group and Private Guitar Lessons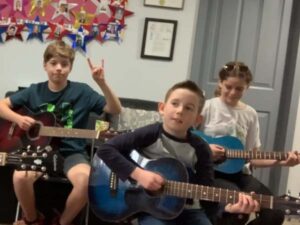 Group Classes
For students ages 10 and up with little or no guitar background
ADULTS WELCOME! Let's learn together!
Learn to strum and sing your favourite songs!
Bring your guitar and your enthusiasm and we'll take it from there!
Make new friends in a fun, supportive group!
Saves time for teacher and student. In one hour in this group class, students can learn what would normally take two hours individually.
Games and competitions in the class activities provide additional incentives to excel!
Wednesdays from 5:15 – 6:10PM
Only $20.00/class, based on a minimum of three students per class.
Each class is limited to 8 students only, so call today!

Private Lessons
A limited number of private acoustic guitar lessons are available.
Strum chords and sing your favourite songs quickly and easily in a few lessons!
Learn basic guitar techniques, such as flatpicking and various styles of fingerpicking.
Unlock the mystery of reading music on a staff!
Get inspired by learning basic music theory and discovering amazing guitar composers!
Genres: country, folk, Christian music, and/or soft rock
$38.00 per 45-minute lesson
Lessons available throughout the day — call now to inquire!